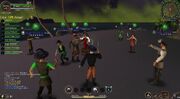 INFERNO is a maxed guild currently led by Ned Yellowbeard. It was never struggling and quickly grew. Right now it is "The Guild to be in." INFERNO is an unlimited access and basic access guild. Also there are a few back-up guilds because it is maxed:
INFERNO Fleet,INFERNO Elites,INFERNO Heroes and INFERNO Leaders (They are the only authorized back-up guilds.) If you want to join INFERNO you must be a level 40 pirate or higher and have not been in it before. There are no exceptions to these rules. INFERNO is one of the greatest Guilds in the Caribbean. Dominating the Leaderboards, PVP and SVS. INFERNO is a VERY active guild. If you need help with anything or just want to find something to do, most are happy to help. Just call out in guild chat what you need and normally you will get many replies
Ad blocker interference detected!
Wikia is a free-to-use site that makes money from advertising. We have a modified experience for viewers using ad blockers

Wikia is not accessible if you've made further modifications. Remove the custom ad blocker rule(s) and the page will load as expected.