This guild was made during the battle at raven cove by Lawrence Greasehazzard as backup for the EITC. There was a riot in the guild becauuse the wanted to be a treasure guild so they got massacred.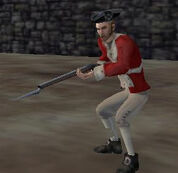 The Unlimited invite code is SAKZ3863.
[edit] Ranks:
Edit
(Guildmaster is Everything, Pirates with names Pirate, Buccaneer, or Swashbuckler aren't in here yet until I find a solution to distinguish them) more ranks coming soon
Deadly Assassin: Jason Warhound
Deadly Assassin Assistant: Geogator
Dark Assassin: Anne Bridgebreaker
Dark Assassin Assistant: Brian Gold Gun
Deadly Ninja:Tyson
Dark Ninja: Jasmine
Chief Voodoo Practicer: Jack Fireskull
Fortune Teller: Simon Sunfitte
Fleet Leader: Jack O'grim
Fleet Navigator: Marc Suncrash
Silent Swordman: Charles Bluegrim
Reckless Swordman: Taylor Scary
Deadly Sharpshooter: William Plundermorgan
Dark Sharpshooter: Jane Seawalker
Dark Sharpshooter Assisstant: Captin Loud Fire
Deadly Scout: Elizabeth Fireswain
Ad blocker interference detected!
Wikia is a free-to-use site that makes money from advertising. We have a modified experience for viewers using ad blockers

Wikia is not accessible if you've made further modifications. Remove the custom ad blocker rule(s) and the page will load as expected.